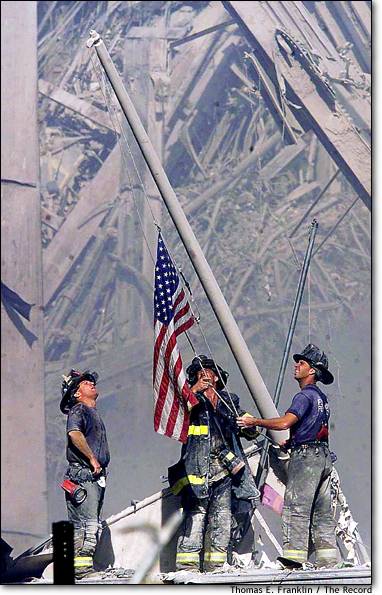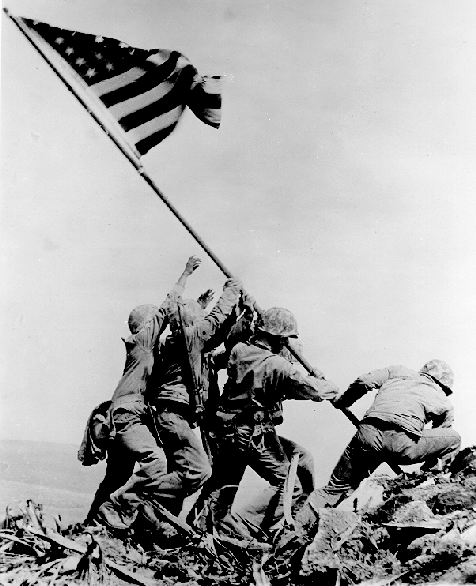 Iwojima, and flag at wreckage (by Joe Rosenthal, and Thomas Franklin of the Bergen Record)

In Remembrance

September 11, 2001

"Today has been a day that will be remembered always in the annals of our
beloved nation. It has been a day when the ugly face of hatred has shown
itself with terror, death and destruction. It has been a day when
uncounted numbers of the innocent have perished, and their loved ones have
been left to sorrow. Many have been wounded, and this our nation has been
seriously injured and insulted....
"Our hearts are deeply touched, as are those of all Americans and of free
people across the world. This has been a tragic, solemn and dark day. We
have been reminded that evil is still rampant in the world. Its insidious
and dastardly hand has struck again in a most reprehensible manner....
"But dark as is this hour, there is shining through the heavy overcast of
fear and anger the solemn and wonderful image of the Son of God, the
Savior of the World, the Prince of Peace, the exemplar of universal love,
and it is to Him that we look in these circumstances. It was He who gave
His life that all might enjoy eternal life.
"May the peace of Christ rest upon us and give us comfort and reassurance
and, particularly, we plead that He will comfort the hearts of all who
mourn."
(President Gordon B. Hinckley, remarks at a memorial service held in the
Tabernacle following the World Trade Center disaster, 11 September 2001)